MARK YOUR CALENDARS
Call our office at 866-849-2536 to schedule a speaker from WFA or WFC for your next event! 
"YOUR BACKYARD: OWN IT!"
TONIGHT! Thursday, March 24, 2022
Pizza Ranch — Marshfield, WI
6-8 pm


Register HERE!
"YOUR BACKYARD: OWN IT!"
Thursday, March 31, 2022
Pizza Ranch — Manitowoc, WI
5:30-7pm


Register HERE!
SPRING GENERAL ELECTION
Tuesday, April 5, 2022


Learn more HERE.
"YOUR BACKYARD: OWN IT!"
Thursday, April 7, 2022
Pizza Ranch — Baraboo, WI
6-8 pm


Register HERE!
EASTER
Sunday, April 17, 2022

---
LEAD WISCONSIN
July 10-15, 2022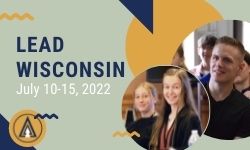 Hey, teens, ages 13-19! Reserve your spot HERE!
If you're 19+ and want to invest in the next generation, contact us HERE!
Equipping teens to become effective godly leaders who engage the culture
from a Biblical perspective.
---
2021-2022 Legislative Directory


CLICK HERE to download
your FREE copy today!
---
Responding to the Transgender Issue:
Parent Resource Guide


Are you struggling to find the right words to help your child navigate transgender issues?
If so, "The Parent Resource Guide" was written with you in mind!
It is a carefully researched resource providing parents with practical ways to address the transgender issue with their children.
Grab your free copy HERE.
Call our WFC office at 888-378-7395 to obtain a print copy for a suggested donation of $5.
_____________
PARTNER WITH US!
It is the mission of Wisconsin Family Action to advance Judeo-Christian principles and values in Wisconsin by strengthening, preserving, and
promoting marriage, family, life and religious freedom. Our vision is a Wisconsin where God is honored, families thrive, human life is cherished
and religious freedom flourishes.
CLICK here to invest in your family, faith, freedom and future!
_____________
LEAVING A LEGACY
Because of our desire to serve and help families, our ministry is making resources available that can be useful in creating a wise giving plan.
Click HERE for more information on how you can significantly impact the Kingdom while strengthening and building families.
---
IN THIS EDITION
WFC's Day At The Capital
Early Voting Ends April 1
Protecting WI School Curriculum from CRT
Saving Women's Sports in Wisconsin
In the Media
---
Last Thursday, Wisconsin Family Council hosted a Day at the Capitol for over 100 students and sponsors from schools in the Wisconsin Association of Christian Schools (WACS). Special speakers from all three branches of government addressed the group, including Senate President Chris Kapenga (R-Delafield), Representative Elijah Behnke (R-Oconto) and Wisconsin Supreme Court Justice Rebecca Bradley. The students visited their legislators' offices, discussed a bill from this session that would have made Colby cheese Wisconsin's official cheese, and also participated in a school competition that included a scavenger hunt in the capitol.
Then this past Tuesday, WFC hosted another WACS Day at the Capitol for families who home-school through Academy of Excellence Online.  Academy of Excellence is a member of WACS. Once again we had over 100 people in the largest hearing room in the capitol. Both days we were filled to capacity! Tuesday's guests heard from State Representative JeremyThiesfeldt (R-Fond du Lac), Sam Krebs from Sen. Chris Kapenga's office, and WI Supreme Court Justice Pat Roggensack. The families visited legislative offices, had a capitol scavenger hunt, toured the capitol, had a special Heritage Tour with Julaine (see picture at left), and discussed the Colby cheese bill with Micah Pearce, WFC's Exec. VP.
Julaine Appling, President of Wisconsin Family Action and Wisconsin Family Council commented, "These days are highlights for us. We want the government to come alive for the next generation and for them to understand our government better and want to be good citizens. We keep the day moving, bring in good speakers, give them some snacks, feed them lunch, have them visit their legislators, and include a tour of our beautiful and historic capitol building. We are honored to be the legislative liaison for WACS and to host their schools and families for special days like this.
---
Early in-person voting has begun statewide for the Spring nonpartisan general election. Election Day is Tuesday, April 5. To be sure of the hours and days you can vote early in your clerk's office, contact your clerk. Early in-person voting ends Friday, April 1. For those voters voting by mail with an absentee ballot, be sure to return your completed ballot in the envelope provided no later than 8 p.m. on Election Day. Per court order, there will be no absentee ballot drop boxes for this election. Absentee ballots must be returned by mail or handed to the clerk.
Julaine Appling added, "For details on voting in this important election, we urge you to visit myvote.wi.gov. You can see a sample ballot there that will help you research the candidates and issues. On your ballot could be mayors, city council members, town and village supervisors, county supervisors, school board members, and judges. Make a difference where you live by voting in this election."
Find your polling place and view a sample ballot HERE.
---
Protecting WI School Curriculum from CRT
Attorneys at Wisconsin Institute for Law and Liberty issued a letter to the Cedarburg School District making clear that the district is not legally required to adopt Critical Race Theory concepts in their curriculum, nor can the Department of Public Instruction legally mandate the district adopt CRT concepts. The School District recently investigated a complaint from a local group alleging its curriculum violates state and federal law and found no violations. That group has appealed to DPI suggesting Cedarburg's curriculum is not "diverse and representative."
Julaine Appling noted, "I'm glad WILL weighed in on this. School boards need to be sure they understand the law before they make knee-jerk decisions about curriculum or policy. This is an oft-used tactic of liberals to try to intimidate school boards into a certain action. Kudos to Cedarburg for checking out the allegations and not capitulating. CRT has no place in a school district's curriculum."
Read more HERE.
---
Transgender swimmer Lia Thomas, a biological male, was permitted to compete at the NCAA Women's Championships last week where he dominated his competition. While competing on a men's team for three years, Thomas was ranked No. 462 nationally. Now that he is competing among women, he is ranked No. 1. It's abundantly clear that Thomas is cheating. Men do not belong in women's sports.
Women's sports exist purely to create a level playing field for women because men have an undeniable, innate physical advantage. If biological men are allowed to compete against women, women's sports are pointless. Unless we stop this gender ideology madness, women's sports will soon be eradicated.
The Wisconsin State legislature tried to mitigate this issue through legislation, but two necessary bills failed to pass this session. Senate Bill 323 and its Assembly companion, Assembly Bill 195, would have prohibited all US System schools and all technical colleges from allowing biological males to compete on or in women's athletic teams or competitions. Similarly, Senate Bill 322 and Assembly Bill 196 would have prohibited public schools, independent charter schools and private schools participating in the voucher program from allowing biological males to compete on or in girls' athletic teams or competitions.
These bills need to be brought back in the new session that will begin in January 2023. But between now and then, Wisconsin citizens need to remember that elections have consequences. If we want to keep boys and men out of girls' and women's sports, then we need, at a minimum, a governor who will sign the bills.
Read more HERE.
---
WEEKLY RADIO COMMENTARY. "WISCONSIN FAMILY CONNECTION" – Airing this week on over 20 stations statewide. Click HERE to listen to this week's Wisconsin Family Connection, "The War on Children Is Real." Read the complete radio commentary HERE. Subscribe to our podcasts HERE! 
ARCHIVED:
Week of March 14, 2022 – Gambling: Will We Learn From Our History?
Week of March 7, 2022 – Holding Governor Evers Accountable
Week of February 28, 2022 – The War on Life Rages
Week of February 21, 2022 – Whence Cometh Presidents' Day?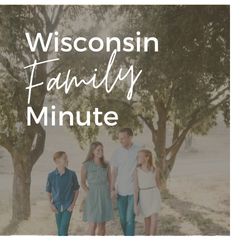 "WISCONSIN FAMILY MINUTE"
A daily program for Christian radio stations! Click HERE for our daily program; listen or download! Click HERE to subscribe to your Wisconsin Family Minute podcasts! Find your local station HERE. If the Christian radio station you listen to isn't carrying "Wisconsin Family Minute," please encourage them to do so. Contact us at 866-849-2536 or info@wifamilycouncil.org. 
HOME FRONT – VCY AMERICA
WFC President Julaine Appling, joined by WFC Exec VP Micah Pearce, hosts VCY America's "Home Front" program every Wednesday afternoon (Sept.-May) at 3:15 p.m. On each program Julaine and Micah talk about important events happening in Wisconsin. This week Julaine and Micah tackle the men participating in women's sports issue and look at what happened to the Protect Women's Sports bills introduced in WI, and give significant Spring election reminders. Click HERE to listen to this week's program. CLICK HERE to listen to the archived episodes.
VCY AMERICA TV30 "InFocus"
Julaine Appling, WFC president, is a regular guest (one Monday per month) on VCY America's TV 30 "InFocus" live, call-in program with Jim Schneider which airs on Monday evenings from 7:00-8:00 p.m. (Sept. through May). Click HERE to watch archived episodes. Livestream "InFocus" HERE. Julaine joined Jim Monday, March 14, 2022. Watch the show HERE. Her next appearance on InFocus will be Monday, April 4, 2022, at 7 p.m.
STAND UP FOR THE TRUTH – Q90FM
Julaine Appling is an occasional guest on Q90's "Stand Up for the Truth" program hosted by David Fiorazo (9-10 a.m., M-F). Julaine most recently joined David on Tuesday, September 21, 2021. Listen in HERE. Listen to the previous Julaine's most recent appearance on the podcast was Thursday, February 10, 2022. Listen to the podcast HERE. You can tune-in live HERE.
–WFA's president Julaine Appling is available to speak to your group, church, school, civic organization, and other events. Call
866-849-2536
 to schedule.
–Dave Lingle, Wisconsin Family Council's Director of Church Relations, is available to speak in churches. Call
920-342-1928
 for more information.