MARK YOUR CALENDARS
Call our office at 866-849-2536 to schedule a speaker from WFA or WFC for your next event! 
---
MARCH FOR LIFE MIDWEST
January 7-9, 2022


Chicago – actual March & Rally is on Saturday, Jan. 8, 2022
Learn more HERE.
MARCH FOR LIFE
Friday, January 21, 2022


Washington D.C.
Learn more HERE.
SANCTITY OF LIFE SUNDAY
Sunday, January 23, 2022


Learn more HERE.
---
LEAD WISCONSIN
July 10-15, 2022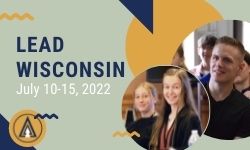 Hey, teens! Reserve your spot HERE!
If you're 19+ and want to invest in the next generation, contact us HERE!
Equipping teens to become effective godly leaders who engage the culture
from a Biblical perspective.
---
2020-2021 Legislative Directory


CLICK HERE to download
your FREE copy today!
---
Responding to the Transgender Issue:
Parent Resource Guide


Are you struggling to find the right words to help your child navigate transgender issues?
If so, "The Parent Resource Guide" was written with you in mind!
It is a carefully researched resource providing parents with practical ways to address the transgender issue with their children.
Grab your free copy HERE.
Call our WFC office at 888-378-7395 to obtain a print copy for a suggested donation of $5.
_____________
PARTNER WITH US!
It is the mission of Wisconsin Family Action to advance Judeo-Christian principles and values in Wisconsin by strengthening, preserving, and
promoting marriage, family, life and religious freedom. Our vision is a Wisconsin where God is honored, families thrive, human life is cherished
and religious freedom flourishes.
CLICK here to invest in your family, faith, freedom and future!
_____________
LEAVING A LEGACY
Because of our desire to serve and help families, our ministry is making resources available that can be useful in creating a wise giving plan.
Click HERE for more information on how you can significantly impact the Kingdom while strengthening and building families.
---
IN THIS EDITION
WFA Joins 30 Family Policy Councils Challenging Biden's Vaccine Mandate
Why You Should Vote Even if Election Reform Doesn't Happen 
Ohio Medical Team Proves Children in the Womb are Valuable & Deserving of Care
God's Plan for Marriage vs Marrying the Color Pink
In the Media
---
WFA Joins 30 Family Policy Councils Challenging Biden's Vaccine Mandate
Wisconsin Family Action has joined 30 other state family policy councils in submitting a friend-of-the-court (amicus) brief to the U.S. Supreme Court to oppose the Biden Administration's vaccine mandate for "large" employers. The brief, filed earlier this week, urges the Supreme Court to protect religious liberty and oppose this sweeping and unchecked mandate, which requires COVID-19 vaccination for employers with 100 or more employees with little to no regard for the religious liberty interests of American citizens. The high court will hear oral arguments on this case tomorrow, Friday, January 7, 2022.
In November, the Occupational Safety and Health Administration (OSHA) under the Biden Administration issued a vaccine mandate for the aforementioned employers. It did so without the approval of Congress and without even allowing for public comment, which is a key part of the rule-making process. Because the mandate circumvented these critical checks, the mandate "undermines rule-of-law values," the brief argues, "for it puts important policy decisions in the hands of unelected, unaccountable bureaucrats…."
More importantly, by placing this power in the hands of an unelected agency, there is a great threat to religious liberty. "In the last 20 years," says the brief, "[the U.S. Supreme Court] has repeatedly had to step in to protect religious exercise from agency hostility." The OSHA vaccine mandate is evidence of this continued hostility, as it did not offer any guidance for religious employers or employees. Rather, it creates a potential religious conflict with its mandate and then "places responsibility for that conflict in the lap of the employer." OSHA sidestepped Congress and the normal rule-making procedure, which would have allowed for public input. In addition, OSHA ignored the right of states to rule-make and legislate in these critical areas.
Putting aside the many strong opinions Americans have on the vaccine issue, this sweeping mandate by OSHA both exceeds the agency's authority, and backhands religious liberty, a bedrock principle and value of our nation.
We will keep you informed on any action by the U.S. Supreme Court on this issue.
Julaine Appling covered this issue in depth during this week's "Wisconsin Family Connection" podcast episode. Listen to it HERE or read the transcript HERE. WFA's press release is HERE.
---
Why You Should Vote Even if Election Reform Doesn't Happen 
This week kicks off an important election year in Wisconsin. This spring we have our nonpartisan local elections. In the fall during our partisan elections, we will be electing a governor and lieutenant governor, an attorney general, a treasurer, and a secretary of state, all ninety-nine of our Assembly members and half of our state senate, along with all eight members of Congress and a US Senator. The first election is the spring primary in mid-February. Wisconsin Family Council encourages you to get informed and involved early so you can vote responsibly.
Julaine Appling commented, "We realize election integrity is still a hot issue, and we believe everything that can be done should be done to assure every legal vote counts, and every illegal one does not. We aren't sure what will be done here ultimately on this issue. But we do know that not voting is the very best way for people who don't share your values to win elections."
---
Ohio Medical Team Proves Children in the Womb are Valuable & Deserving of Care
Earlier this year a medical team "performed a rare, complex fetal surgery to save the life of Rylan Harrison Drinnon. As the clinic reported in the Patient Stories section on its website, a tumor had started growing on the baby's heart and, without intervention, would have led to fetal heart failure…[Their efforts proved] that, even while residing in the womb, children are valuable human beings deserving of care," wrote Samantha Kamman for LiveAction. This report is particularly poignant in light of Sunday, January 16, being Sanctity of Human Life Day.  
In January 1984, President Ronald Reagan issued a presidential proclamation designating the third Sunday of January as National Sanctity of Human Life Day. Pastors, churches and life organizations across the country use this day to bring awareness to the issue of abortion and the importance of protecting unborn human life. One of the best ways to protect unborn lives is by educating people on the issue and supporting local Pregnancy Help Organizations that daily reach women and families with messages of hope and life.
Julaine Appling elaborated, "This year, Sanctity of Human Life Day is Sunday, January 16, but many churches will observe it on January 23, since this is the exact day 49 years ago the US Supreme Court handed down Roe v. Wade making abortion on demand legal nationwide. We encourage churches to use one of these Sundays to preach and teach on the biblical issue of life."
Read more HERE.
---
God's Plan for Marriage vs Marrying the Color Pink
"For many people, Jan. 1, means new beginnings and new resolutions. But for Kitten Kay Sera, Jan. 1 will forever be her historic wedding anniversary," reported nbc15.com as they announced the first person to marry a color — in this case, the color pink.
Clearly, God's design for marriage is under attack in more ways than we can fathom. As believers, one of the best things we can do to oppose the enemy's undermining of God's good plan for us is to demonstrate the beauty of the biblical institution of marriage. A good way to start is by appreciating your spouse.
Katie J. Trent, writing for Crosswalk, shared 7 ways couples can be intentional to appreciate each other: speaking your appreciation, giving physical affection, leaving a note, bragging on your spouse, lightening their load, spending quality time together, giving a gift.
God's way for marriage — one biological man and one biological woman — not the color pink! — uniting in a marriage covenant (Genesis 2:24) — is the best way — ALWAYS.
---
WEEKLY RADIO COMMENTARY. "WISCONSIN FAMILY CONNECTION" – Airing this week on over 20 stations statewide. Click HERE to listen to this week's Wisconsin Family Connection, "A Rare Supreme Court Session." Read the complete radio commentary HERE. Subscribe to our podcasts HERE! 
ARCHIVED:
December 27, 2021 – Resolved: Make Your Family Great.
Week of December 20, 2021 – On Purpose & With a Purpose
Week of December 13, 2021 – Dads & Daughters
Week of December 6, 2021 – Sports Betting Comes to Wisconsin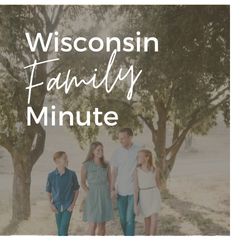 "WISCONSIN FAMILY MINUTE"
A daily program for Christian radio stations! Click HERE for our daily program; listen or download! Click HERE to subscribe to your Wisconsin Family Minute podcasts! Find your local station HERE. If the Christian radio station you listen to isn't carrying "Wisconsin Family Minute," please encourage them to do so. Contact us at 866-849-2536 or info@wifamilycouncil.org. 
HOME FRONT – VCY AMERICA
WFC President Julaine Appling, joined by WFC Exec VP Micah Pearce, hosts VCY America's "Home Front" program every Wednesday afternoon (Sept.-May) at 3:15 p.m. CLICK HERE to listen to the archived episodes. On this week's program, Julaine and Micah give a quick overview of LEAD WI 2022, discuss the upcoming special US Supreme Court session regarding Biden's vaccine mandates, and then tackle a bill in WI that would change how we elect our US House of Representatives and US Senators. Click HERE to listen to this week's program.
VCY AMERICA TV30 "InFocus"
Julaine Appling, WFC president, is a regular guest (one Monday per month) on VCY America's TV 30 "InFocus" live, call-in program with Jim Schneider which airs on Monday evenings from 7:00-8:00 p.m. (Sept. through May). Click HERE to watch archived episodes. Livestream "InFocus" HERE. Julaine joined Jim Monday, December 6, 2021. Watch the show HERE. Her next appearance on InFocus will be Monday, January 8, 2021 at 7 p.m..
STAND UP FOR THE TRUTH – Q90FM
Julaine Appling is an occasional guest on Q90's "Stand Up for the Truth" program hosted by David Fiorazo (9-10 a.m., M-F). Julaine most recently joined David on Tuesday, September 21, 2021. Listen in HERE. Listen to the previous Julaine's most recent appearance on the podcast, Monday, November 22, HERE. 
–WFA's president Julaine Appling is available to speak to your group, church, school, civic organization, and other events. Call
866-849-2536
 to schedule.
–Dave Lingle, Wisconsin Family Council's Director of Church Relations, is available to speak in churches. Call
920-342-1928
 for more information.