MARK YOUR CALENDARS
Call our office at 866-849-2536 to schedule a speaker from WFA or WFC for your next event! 
Watch here for more events coming in 2021!
___________
JANUARY is
SANCTITY OF HUMAN LIFE MONTH


CLICK HERE to find an
event near you!
(This list of events continues to
evolve as we receive information.)
______________
JANUARY 24-30, 2021


There are a variety of school choice
options available for many of the
1.3 million children living in Wisconsin.
LEARN MORE HERE
______________

SPRING PRIMARY ELECTION
Tuesday, February 16, 2021
Be ready to vote!
One statewide race: 
State Superintendent of Public Instruction
---
LEAD WISCONSIN
Not Your Average Summer Camp


When: August 1-6 2021
Where: Campus of Maranatha Baptist University in Watertown, WI
Who: Teens, ages 13-19
Registration Fee: $400 ($450 after April 30th)
Financial assistance available.
CLICK HERE for more information
---
Responding to the Transgender Issue:
Parent Resource Guide


This resource is fully researched and documented, defines terms,
explains the issue thoroughly and gives parents practical ways
to address the issue with their children and especially in schools.
A free pdf of the publication is available HERE.
Call our WFC office at 888-378-7395 to obtain a print copy for a suggested donation of $5.
_____________
PARTNER WITH US!
It is the mission of Wisconsin Family Action to advance Judeo-Christian principles and values in Wisconsin by strengthening, preserving, and
promoting marriage, family, life and religious freedom. Our vision is a Wisconsin where God is honored, families thrive, human life is cherished
and religious freedom flourishes.


CLICK here to invest in your family, faith, freedom and future!
_____________
LEAVING A LEGACY
Because of our desire to serve and help families, our ministry is making resources available that can be useful in creating a wise giving plan.
Click HERE for more information on how you can significantly impact the Kingdom while strengthening and building families.
New President Reinstates Special Rights & Protections
for Gender-Confused Students
Last week President Biden said prior to signing an executive order, " Let's be clear: Transgender equality is the civil rights issue of our time. There is no room for compromise when it comes to basic human rights." He then proceeded to fulfill a campaign promise of reinstating the Obama-Biden guidance that Trump revoked and restored "transgender students' access to sports, bathrooms, and locker rooms based on their gender identity. He will direct his Department of Education to vigorously enforce and investigate violations of transgender students' civil rights.
Parents with children in public schools need to be aware of this change, but they also need to realize there is no federal law and no court decision that mandates that school districts make this their policy. None. Unfortunately, Biden is using the threat of removing federal funding from schools that don't cooperate with his dangerous policy so most schools will just go along with it no matter the harm to students.
Related to this issue, be sure to click HERE to read "President Biden Has Promised to Pass the Equality Act—Here's How That Threatens Your Freedoms" from Alliance Defending Freedom.
---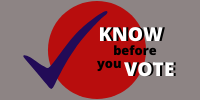 SPRING PRIMARY ELECTION
Tuesday, February 16, 2021
Be ready to vote!
As of this past Monday, absentee ballots are being mailed to Wisconsin voters for the upcoming Spring nonpartisan primary election on Tuesday, February 16. The only statewide race on the ballot is for the State Superintendent of Public Instruction. Seven candidates for this office are on everyone's primary ballot. The top two vote-getters will go on to the Tuesday, April 6, general election.  Local offices such as school board, mayors. city councils and town and village boards are also part of this nonpartisan election. 
Gearing up for another election may not make us ecstatic, but it is still how we keep this representative republic at all viable; and it is part of Christians being good stewards of the form of government God has given us. Wisconsin family Council has some educational information on the state superintendent of public instruction candidates available. See information below.
---
Celebrating the Final Days of School Choice Week
From schoolchoiceweek.com:
"National School Choice Week provides an exciting opportunity, every year, for teachers and administrators to celebrate what makes their schools great! We invite you to celebrate your school, your students, your parents, your teachers and your staff during National School Choice Week. You can plan any type of activity or project designed to spotlight your school."
CLICK HERE for some last-minute ideas to finish up the School Choice Week (1/24-1/30) celebration!
Wisconsin Family Action believes that parents are best equipped to decide what type of education their children receive, not impersonal bureaucratic agencies. They, rather than government entities, are most deeply and immediately concerned about the well-being of their children. Click HERE to donate securely and join us as we continue to support school choice in The Badger State.
---
Update on Vaccination Mandates and Religious Freedom Bills
Last week, a public hearing was held in the Senate's Committee on Human Services, Children and Families for the following bills:
Senate Bill 4 – Deals with prohibiting certain state and/or local officials from mandating the COVID-19 vaccine
Senate Bill 5  – Deals with prohibiting employers from mandating the COVID-19 vaccine as a condition of employment
Senate Bill 7 – Deals with prohibiting local health officers from closing or prohibiting gatherings in places of worship during the coronavirus crisis
 Wisconsin Family Action president Julaine Appling testified in support of all three bills. Appling's testimony on the vaccine-related bills focused on the right of individuals to determine for themselves whether they take the vaccine or not and reminded legislators that the state constitution clearly protects the right of conscience. On the bill related to closing churches, Appling noted that the law requires that churches be treated the same as other essential services, which some local officials had not done. The bills are scheduled to be voted on in the full Senate today.
Julaine Appling gave an update after lending her testimony at this public hearing. Watch the video HERE. For a full update on these bills and related legislative matters, listen to yesterday's Home Front program HERE.
---
IN THE MEDIA
WEEKLY RADIO COMMENTARY. "WISCONSIN FAMILY CONNECTION" –  Airing this week on over 20 stations statewide. Click HERE to listen to this week's Wisconsin Family Connection, "We're All About Choice—School Choice, That Is" Read the transcript of this week's commentary HERE. Subscribe to our podcasts HERE! 
ARCHIVED:
Week of January 18, 2021  LIFE: In the Beginning God
Week of January 11, 2021  Religious Freedom—More Than an Epitaph
Week of January 4, 2021 Looking for a Few Good Legislative Leaders
"WISCONSIN FAMILY MINUTE"
A daily program for Christian radio stations! Click HERE for our daily program; listen or download! Click HERE to subscribe to your Wisconsin Family Minute podcasts! Find your local station HERE. If the Christian radio station you listen to isn't carrying "Wisconsin Family Minute," please encourage them to do so. Contact us at 866-849-2536 or info@wifamilycouncil.org. 
HOME FRONT – VCY AMERICA
WFC President Julaine Appling hosts VCY America's "Home Front" program every Wednesday afternoon (Sept.-May) at 3:15 p.m. CLICK HERE to listen to this week's episode in which Julaine gives an important announcement about LEAD WI and discusses state legislation that impacts every Wisconsin citizen. Click HERE to subscribe to future Home Front podcasts!  
VCY AMERICA TV30 "InFocus"
Julaine Appling, WFC president, is a regular guest (one Monday per month) on VCY America's TV 30 "InFocus" live, call-in program with Jim Schneider which airs on Monday evenings from 7:00-8:00 p.m. (Sept. through May). Click HERE to watch archived episodes. Julaine was a guest  this past Monday, January 11, 2021. Click HERE to watch this most recent episode. Livestream "InFocus" HERE. Julaine's next appearance on InFocus is Monday, February 8, 2021.
STAND UP FOR THE TRUTH – Q90FM
Julaine Appling is a regular guest on Q90's "Stand Up for the Truth" program hosted by David Fiorazo (9-10 a.m., M-F).  Julaine joined David this morning, Thursday, January 28, 2021 at 9 a.m. We'll share the archived episode in next week's newsletter.
–WFA's president Julaine Appling is available to speak to your group, church, school, civic organization, and other events. Call 866-849-2536 to schedule.
–Dave Lingle, Wisconsin Family Council's Director of Church Relations, is available to speak in churches. Call 920-342-1928 for more information.