MARK YOUR CALENDARS
Call our office at 866-849-2536 to schedule a speaker from WFA or WFC for your next event! 
---
NATIONAL RELIGIOUS FREEDOM DAY
Sunday, January 16, 2022


Learn more HERE.
MARCH FOR LIFE
Friday, January 21, 2022


Washington D.C.
Learn more HERE.
SANCTITY OF LIFE SUNDAY
Sunday, January 23, 2022


Learn more HERE.
---
LEAD WISCONSIN
July 10-15, 2022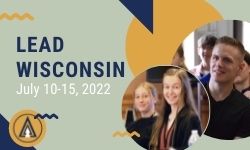 Hey, teens! Reserve your spot HERE!
If you're 19+ and want to invest in the next generation, contact us HERE!
Equipping teens to become effective godly leaders who engage the culture
from a Biblical perspective.
---
2020-2021 Legislative Directory


CLICK HERE to download
your FREE copy today!
---
Responding to the Transgender Issue:
Parent Resource Guide


Are you struggling to find the right words to help your child navigate transgender issues?
If so, "The Parent Resource Guide" was written with you in mind!
It is a carefully researched resource providing parents with practical ways to address the transgender issue with their children.
Grab your free copy HERE.
Call our WFC office at 888-378-7395 to obtain a print copy for a suggested donation of $5.
_____________
PARTNER WITH US!
It is the mission of Wisconsin Family Action to advance Judeo-Christian principles and values in Wisconsin by strengthening, preserving, and
promoting marriage, family, life and religious freedom. Our vision is a Wisconsin where God is honored, families thrive, human life is cherished
and religious freedom flourishes.
CLICK here to invest in your family, faith, freedom and future!
_____________
LEAVING A LEGACY
Because of our desire to serve and help families, our ministry is making resources available that can be useful in creating a wise giving plan.
Click HERE for more information on how you can significantly impact the Kingdom while strengthening and building families.
---
IN THIS EDITION
AT THE CAPITOL: Julaine Testifies on 5 Bills
How WFA Is Currently Defending Religious Freedom
Why National Sanctity of Human Life Day Gets 2 Days in 2022
The Essential Ingredient for Passing Your Faith on to Your Children
In the Media
---
AT THE CAPITOL: Julaine Testifies on 5 Bills
The Wisconsin Capitol building has been a busy place lately including being the host of public hearings for nine Legislative Committees yesterday. Julaine gave testimony in support of several bills including the following:
SB 383 & AB 299 – Relating to: prohibiting proof of vaccination for COVID-19 as a condition of receiving business and government services. (AB 299 has already passed in the Assembly.)
SB 336  – Relating to: prohibiting discrimination based on vaccination status. 
SB 337  – Relating to: prohibiting businesses from discriminating against customers due to vaccination record.
SB 342  – Relating to: prohibiting discrimination based on whether the person has received a COVID-19 vaccine.
The Assembly version of SB 336, 337, and 342 have already had hearings in the Assembly. They have not been voted on in the Assembly, however.
WFA's testimony on the above bills was done together. You can find a transcript of the testimony is HERE.
AB 215 – Relating to: visitation of a long-term care facility resident or hospital patient by an essential visitor or member of the clergy.
You can view WFA's testimony on AB 215 is HERE.
Here we would like to give special attention to Assembly Bill 215
Assembly Bill 215  would require nursing homes, long-term care facilities, and hospitals to allow a resident or patient to designate an essential visitor to visit and provide support. The bill also requires that members of the clergy be allowed to visit. The provisions of the bill apply when the nursing home, long-term care facility or hospital limits visitors due to an outbreak or epidemic of a communicable disease.
Julaine Appling commented favorably on this bill, "We all know of people hospitalized with a serious illness during COVID being denied any visitors. And we know the horrors of nursing home residents being isolated for months. This is tragic for both the patient or resident and for their family and friends. This bill is a reasonable step to begin ensuring that those suffering have access to people they know and love."
Assembly Bill 675, would require an employer who requires employees to provide proof of a COVID vaccine or to be regularly tested as a condition of employment to accept, in lieu of proof of vaccination or regular testing, documentation demonstrating natural immunity against the virus—either documentation showing the individual tested positive for COVID or documentation of a serology test that shows the presence of naturally occurring antibodies against COVID. (WFA did not testify on this bill)
Julaine Appling pointed out that while no action has been taken on this bill, it is broadly supported, "This bill is really a common-sense bill when it comes to how employers handle COVID. It allows employers to make certain requirements for employees while giving those employees more options in proving they are safe to work. The bill enjoys broad support from Republicans with no Democrats supporting it. The Senate held a public hearing on the bill but has not yet taken action on it."
In a Facebook Live Julaine briefly explained several of the bills heard during the hearings on January 12. You can watch it HERE.
---
How WFA Is Currently Defending Religious Freedom
National Religious Freedom Day is this Sunday, January 16. Ironically, just two days later, on January 18, the U.S. Supreme Court will hear a case regarding whether the City of Boston violated the First Amendment by denying a request to temporarily fly the Christian flag on a flagpole outside City Hall, where Boston has temporarily flown many flags from secular organizations. Camp Constitution asked the city to fly the Christian flag but was denied, with the City alleging doing so would amount to government establishing or promoting a particular religion over others. We are hopeful the Court will recognize and uphold Camp Constitution's right to free speech. 
Meanwhile, Wisconsin Family Action continues to actively fight for religious liberty. Just last week, we signed onto an amicus brief filed to the US Supreme Court with regard to the Occupational Safety and Health Administration's (OSHA) nationwide vaccine mandate. The brief states that unelected administrative agencies such as OSHA tend to neglect religious freedom by viewing it as "an afterthought, an inconvenience that stands in the way of their desired policy." Religious liberty is foundational to our nation – not an afterthought.
Julaine Appling, President of Wisconsin Family Action and Wisconsin Family Council strongly stated, "Religious freedom must be non-negotiable. This right is a bedrock of our country and a necessity for human flourishing. On Religious Freedom Sunday, let's pray for the preservation of this essential right in the United States. Putting our prayer and faith to action, we must also continue doing everything we can in the culture and in every level of government to stand up, show up, and speak up for our 'First Freedom.'"
You can read the complete blog post HERE.
---
Why the National Sanctity of Human Life Day Gets 2 Days in 2022
On January 13, 1984, then-President Ronald Reagan issued a proclamation for the first National Sanctity of Human Life Sunday. He concluded his official statement with these words:
"I, Ronald Reagan, President of the United States of America, do hereby proclaim Sunday, January 22, 1984, as National Sanctity of Human Life Day. I call upon the citizens of this blessed land to gather on that day in homes and places of worship to give thanks for the gift of life, and to reaffirm our commitment to the dignity of every human being and the sanctity of each human life."
Thirty-eight years later churches and pro-life citizens continue to observe the National Sanctity of human Life Day. More significantly, almost 50 years following Roe v. Wade, we are closer to seeing this dastardly ruling overturned than we ever have been. That is why this year churches may observe the National Sanctity of Human Life Day on the traditional 3rd Sunday of the month — January 16 — or the 4th — January 23 — which is exactly one day after the anniversary of the life-taking ruling of Roe v. Wade, on January 22, 1973.
Perhaps this year more than any other we need Christians and our Bible-believing churches observing Sanctity of Human Life Day, with preaching and teaching that clearly proclaims that God has created and designed human life and praying that the scourge of abortion will be ended and challenging us to do our own sanctity of human life proclamations to our families, our neighbors, to all in our sphere of influence. Such proclamations may not be presidential, but they will be very powerful.
Read Ronald Regan's complete speech HERE. Listen to Julaine Appling's complete commentary on the National Sanctity of Human Life Day HERE or read it HERE.
---
The Essential Ingredient for Passing Your Faith on to Your Children
The undeniable decrease in faith being passed from one generation to the next over the last few decades has prompted social scientists to ask, "which factors contribute to the transmission of religion between generations?" Research recently released by the Institute of Family Studies reveals that conservative parents are most successful in passing not only their values but also their faith to their children.
If you're a conservative reading this, it may be easy to nod your head in agreement with this data. However, it wasn't necessarily the parent's biblical worldview or values that attributed to their higher rates of success, but rather their higher rates of activity in their children's religious socialization.
The author pointed out, "Specifically, the children in the study were asked in adolescence how often their families discuss 'God, the Scriptures, prayer, or other religious or spiritual things together.' This one factor explains about half of the difference in religious outcomes between children of conservatives compared to everyone else, far more than anything else I examined. To pass on religion, parents need to make it a part of daily family interactions."  (emphasis added)
We hope you don't scroll away from this information lightly and instead more intentionally and regularly involve yourself in your child's spiritual education and socialization as God instructs us in Deuteronomy 6:6-7. 
---
WEEKLY RADIO COMMENTARY. "WISCONSIN FAMILY CONNECTION" – Airing this week on over 20 stations statewide. Click HERE to listen to this week's Wisconsin Family Connection, "Proclaiming the Sanctity of Human Life." Read the complete radio commentary HERE. Subscribe to our podcasts HERE! 
ARCHIVED:
Week of January 3, 2022 – A Rare Supreme Court Session
December 27, 2021 – Resolved: Make Your Family Great.
Week of December 20, 2021 – On Purpose & With a Purpose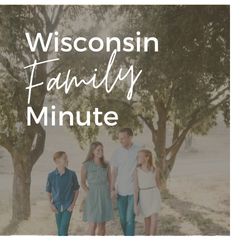 "WISCONSIN FAMILY MINUTE"
A daily program for Christian radio stations! Click HERE for our daily program; listen or download! Click HERE to subscribe to your Wisconsin Family Minute podcasts! Find your local station HERE. If the Christian radio station you listen to isn't carrying "Wisconsin Family Minute," please encourage them to do so. Contact us at 866-849-2536 or info@wifamilycouncil.org. 
HOME FRONT – VCY AMERICA
WFC President Julaine Appling, joined by WFC Exec VP Micah Pearce, hosts VCY America's "Home Front" program every Wednesday afternoon (Sept.-May) at 3:15 p.m. CLICK HERE to listen to the archived episodes. Tune in to hear Julaine and Micah discuss Sanctity of Human Life Day, National Religious Freedom Day, Milwaukee teachers' union demands, and some current bills in the state legislature. Click HERE to listen to this week's program.
VCY AMERICA TV30 "InFocus"
Julaine Appling, WFC president, is a regular guest (one Monday per month) on VCY America's TV 30 "InFocus" live, call-in program with Jim Schneider which airs on Monday evenings from 7:00-8:00 p.m. (Sept. through May). Click HERE to watch archived episodes. Livestream "InFocus" HERE. Julaine joined Jim Monday, January 10, 2022. Watch the show HERE. Her next appearance on InFocus will be Monday, February 14, 2022, at 7 p.m..
STAND UP FOR THE TRUTH – Q90FM
Julaine Appling is an occasional guest on Q90's "Stand Up for the Truth" program hosted by David Fiorazo (9-10 a.m., M-F). Julaine most recently joined David on Tuesday, September 21, 2021. Listen in HERE. Listen to the previous Julaine's most recent appearance on the podcast, Monday, November 22, HERE. 
–WFA's president Julaine Appling is available to speak to your group, church, school, civic organization, and other events. Call
866-849-2536
 to schedule.
–Dave Lingle, Wisconsin Family Council's Director of Church Relations, is available to speak in churches. Call
920-342-1928
 for more information.