MARK YOUR CALENDARS
Call our office at 866-849-2536 to schedule a speaker from WFA or WFC for your next event! 
---
LABOR DAY
Monday, September 6, 2021

---
LEAD WISCONSIN
July 10-15, 2022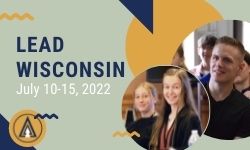 Reserve your spot HERE!
If you're 19+ and want to invest in the next generation, contact us HERE!
Equipping teens to become effective godly leaders who engage the culture
from a Biblical perspective.
---
NEW! 2020-2021 Legislative Directory

CLICK HERE to download
your FREE copy today!
---
Responding to the Transgender Issue:
Parent Resource Guide


Are you struggling to find the right words to help your child navigate transgender issues?
If so, "The Parent Resource Guide" was written with you in mind!
It is a carefully researched resource providing parents with practical ways to address the transgender issue with their children.
Grab your free copy HERE.
Call our WFC office at 888-378-7395 to obtain a print copy for a suggested donation of $5.
_____________
PARTNER WITH US!
It is the mission of Wisconsin Family Action to advance Judeo-Christian principles and values in Wisconsin by strengthening, preserving, and
promoting marriage, family, life and religious freedom. Our vision is a Wisconsin where God is honored, families thrive, human life is cherished
and religious freedom flourishes.
CLICK here to invest in your family, faith, freedom and future!
_____________
LEAVING A LEGACY
Because of our desire to serve and help families, our ministry is making resources available that can be useful in creating a wise giving plan.
Click HERE for more information on how you can significantly impact the Kingdom while strengthening and building families.
---
What a 4% Decrease in Children means for Wisconsin
Calling Gender Change Surgeries What They Are: Abuse
Representative Grothman Stands up for Religious Freedom
A Tennessee School District Offers Bible History
IN THE MEDIA
---
What a 4% Decrease in Children means for Wisconsin
Over the last ten years, according to the 2020 census, while Wisconsin has experienced a modest increase in population since 2010, we've experienced a 4 percent decline in the number of children living in Wisconsin. The Milwaukee Journal Sentinel calls this a "notable" drop that "forecast[s] consequences for the state's education systems and labor force."
What this means is the current growth has been the result of immigration and migration from other states — not Wisconsin citizens having children. The impact of this change shows up most significantly in schools and the labor force. Yes, the government paying people not to work doesn't help the number of jobs that need to be filled, but even before the pandemic, Wisconsin was experiencing a shortage of workers to fill jobs.
The good news is this trend is reversible. First, we all need to become champions of marriage and childbearing within marriage, or what we call "good fertility." Secondly, the Wisconsin government needs to address in meaningful ways reducing the tax burden and in so doing, give families with children a financial reason to stay — or at least give residents a reason to think twice about relocating.
Listen to the full podcast episode HERE or read the transcript HERE.
---
Calling Gender Change Surgeries What They Are: Abuse
Last week, Texas Governor Greg Abbott announced that performing so-called "sex reassignment surgeries" on minors is a form of child abuse. The governor did so after receiving a report from Jaime Masters, commissioner of the Texas Department of Family and Protective Services. Masters, Abbott said in a statement, examined whether such surgeries on a child "for purposes of gender transitioning through reassignment surgery constitutes child abuse." Masters wrote that these procedures "for non-medical purposes potentially [inflict] irreversible harm to children's bodies."
Julaine Appling applauded Governor Abbott and encouraged parents to teach their children that God's creation is right and good: "Bravo, Governor Abbott, for calling these surgeries what they really are.  In addition to mutilating children's bodies, these procedures do not deal with the emotional, mental and spiritual issues that are the root of the problem. We urge Christian parents to begin early to build into their children a deep understanding that how God made them, male or female, is right and good."
Read more HERE.
---
Representative Grothman Stands up for Religious Freedom
A coalition of eighty-four Republican US Senators and members of congress is demanding the Biden administration explain why it dropped a Trump-era lawsuit against a Vermont hospital that allegedly forced a Catholic nurse to assist with an abortion. The letter states in part: "Your handling of this case is a profound miscarriage of justice and a rejection of your commitment to enforce federal conscience laws for Americans of all religious beliefs and creeds – and especially for doctors, nurses, and other healthcare professionals who object to abortion."
Julaine Appling celebrated that Wisconsin Member of Congress Representative Glenn Grothman signed this letter, "I am very pleased Representative Grothman is one of the signers of this letter. He's the only one of our Wisconsin delegation to do so. While the letter may not result in the Biden administration changing course, it is vitally important  they be reminded of promises made and more importantly of the clear protection of religious freedom in our US Constitution."
Read more HERE.
---
A Tennessee School District Offers Bible History
Earlier this week Michael Foust reported for Christian Headlines that, "One of Tennessee's largest public school districts has received a $1.8 million gift this month from a non-profit organization as reimbursement for teaching Bible history elective classes to more than 4,500 students for the 2020-21 academic year."
Julaine Appling responded positively to this news saying that it would be a worthwhile consideration for Wisconsin school districts as well: "What an awesome way to help students understand the role of Christianity in the history of the world and in our nation's history, as well as to appreciate and understand the Bible as literature. I believe our Wisconsin model academics are broad enough, especially with their inclusion of religion, to allow for this approach to teaching the Bible in our public schools."
---
WEEKLY RADIO COMMENTARY. "WISCONSIN FAMILY CONNECTION" – Airing this week on over 20 stations statewide. Click HERE to listen to this week's Wisconsin Family Connection, "Where (or Why) Have All the Children Gone?" Read the transcript of this week's commentary HERE. Subscribe to our podcasts HERE! 
ARCHIVED:
Week of August 9, 2021 – Lifesaving or Life-taking: Worldview Matters
Week of August 2, 2021 – Marriage and Parenting Tips: It's Not About Your Happiness
Week of July 26, 2021 – The Case to Overturn Roe?


"WISCONSIN FAMILY MINUTE"
A daily program for Christian radio stations! Click HERE for our daily program; listen or download! Click HERE to subscribe to your Wisconsin Family Minute podcasts! Find your local station HERE. If the Christian radio station you listen to isn't carrying "Wisconsin Family Minute," please encourage them to do so. Contact us at 866-849-2536 or info@wifamilycouncil.org. 
HOME FRONT – VCY AMERICA
WFC President Julaine Appling hosts VCY America's "Home Front" program every Wednesday afternoon (Sept.-May) at 3:15 p.m. CLICK HERE to listen to the archived episodes. Home Front will resume after Labor Day.
Click HERE to subscribe to future Home Front podcasts!  
VCY AMERICA TV30 "InFocus"
Julaine Appling, WFC president, is a regular guest (one Monday per month) on VCY America's TV 30 "InFocus" live, call-in program with Jim Schneider which airs on Monday evenings from 7:00-8:00 p.m. (Sept. through May). Click HERE to watch archived episodes. Livestream "InFocus" HERE.  Julaine will join Jim to open the new InFocus season on Monday, September 13, 2021.
STAND UP FOR THE TRUTH – Q90FM
Julaine Appling is an occasional guest on Q90's "Stand Up for the Truth" program hosted by David Fiorazo (9-10 a.m., M-F). Julaine most recently joined David on Thursday, June 17, 2021. CLICK HERE to listen!
–WFA's president Julaine Appling is available to speak to your group, church, school, civic organization, and other events. Call 
866-849-2536
 to schedule.
–Dave Lingle, Wisconsin Family Council's Director of Church Relations, is available to speak in churches. Call 
920-342-1928
 for more information.