MARK YOUR CALENDARS
Call our office at 866-849-2536 to schedule a speaker from WFA or WFC for your next event! 
---
LABOR DAY
Monday, September 6, 2021

---
LEAD WISCONSIN
July 10-15, 2022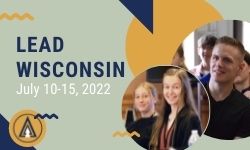 Reserve your spot HERE!
If you're 19+ and want to invest in the next generation, contact us HERE!
Equipping teens to become effective godly leaders who engage the culture
from a Biblical perspective.
---
NEW! 2020-2021 Legislative Directory

CLICK HERE to download
your FREE copy today!
---
Responding to the Transgender Issue:
Parent Resource Guide


Are you struggling to find the right words to help your child navigate transgender issues?
If so, "The Parent Resource Guide" was written with you in mind!
It is a carefully researched resource providing parents with practical ways to address the transgender issue with their children.
Grab your free copy HERE.
Call our WFC office at 888-378-7395 to obtain a print copy for a suggested donation of $5.
_____________
PARTNER WITH US!
It is the mission of Wisconsin Family Action to advance Judeo-Christian principles and values in Wisconsin by strengthening, preserving, and
promoting marriage, family, life and religious freedom. Our vision is a Wisconsin where God is honored, families thrive, human life is cherished
and religious freedom flourishes.
CLICK here to invest in your family, faith, freedom and future!
_____________
LEAVING A LEGACY
Because of our desire to serve and help families, our ministry is making resources available that can be useful in creating a wise giving plan.
Click HERE for more information on how you can significantly impact the Kingdom while strengthening and building families.
---
AT THE CAPITOL: Julaine Appling Testifies on Legislation
Our God-given Solution to Poverty
The Difference Good Judges Can Make
Election Integrity Investigation in Wisconsin Continues
IN THE MEDIA  
---
AT THE CAPITOL: Julaine Appling Testifies on Legislation
Today, Wisconsin Family Action President Julaine Appling testified in two public hearings on 3 bills. AB 411/SB 411 would prohibit the teaching of CRT in public schools, AB 414 would prohibit CRT training sessions for state and local employees, and AB 488/SB 463 would require school districts to post on the home page of their internet sites the curriculum and instructional materials being used in the classrooms. 
We are grateful for the opportunity to have a voice in our government and take the responsibility seriously.
These public hearings stood out specifically because exactly a week ago at LEAD Wisconsin our campers held their own public hearings where lobbyists advocated or opposed legislation we had been discussing at camp. We look forward to many more years of equipping youth to become effective godly leaders who engage their culture from a Biblical perspective — and maybe one day witnessing a few of them engage their legislators at a public hearing! (The picture at left is Julaine giving opening remarks at our legislative & camper meet & greet after the hearings last Wednesday. We were in the Assembly Parlor.)
You can watch Julaine's testimony at Wiseye.org with a subscription HERE (Julaine speaks at 1:25:45) and HERE (Julaine speaks at 2:31:07). 
---
Our God-given Solution to Poverty
Representative Gary Hebl recently sent out a press release saying state Democrats are taking positive action to "pull people out of poverty," while the Republicans are blocking their efforts. Their ideas include more government subsidies and especially raising the minimum wage. Hebl argues the US Constitution's statement that one of its purposes is to "promote the general welfare" demands government take responsibility for seeing that the citizens are "lift[ed] out of poverty," especially during a year that has had so many unique challenges.
Julaine Appling responded to this by pointing out a better, God-given, solution to poverty: "This lawmaker may be well-intentioned, but he is misguided about the Constitution and the solutions to poverty. The very best antidote to poverty isn't raising the minimum wage; it's marriage. Broken families and unwed mothers and children are statistically almost certain to be in poverty. To truly lift people out of poverty, we need to champion and incentivize marriage."
---
The Difference Good Judges Can Make
"[This past] Monday, a federal judge handed religious liberty advocates a major win by ruling that the Biden administration cannot force Christian doctors and religious hospitals to perform abortions or gender transition procedures under Obamacare," reported Michael Foust for Christian Headlines earlier this week.
Julaine Appling celebrated this victory reminding us good judges are important: "This decision is certainly encouraging. It's a reminder that good judges make a difference and that when personal agendas are set aside and the rule of law prevails, religious freedom does not always lose. Religious freedom must extend to medical personnel and to religiously-based hospitals or we are unconstitutionally redefining this foundational freedom, our first freedom."
Read more HERE.
---
Election Integrity Investigation in Wisconsin Continues
Earlier this week M.D. Kittle for Empower Wisconsin reported that, "State. Rep. Janel Brandtjen (R-Menomonee Falls) has announced the issuance of subpoenas for election materials from Milwaukee and Brown counties as the Assembly Campaigns and Elections Committee continues its 'top-to-bottom investigation' of November's election….Brandtjen said many constituents have raised objections to the audit's duration 'and the lack of specifics, as it is open-ended.'"
The article continued explaining that, "Democrats have blasted the investigations as nothing more than taxpayer-funded probes into right-wing conspiracy theories. But concerns about third-party groups — funded by Facebook CEO Mark Zuckerberg —  infiltrating election offices in Wisconsin's largest, Democrat-heavy cities have only intensified."
Julaine Appling commented, "Some Wisconsin elected officials seem to miss the point that what voters want is to be sure their legitimate votes count and fraudulent votes don't count. That means no stone should be left unturned in this investigation of last November's election. Officials need to do whatever is necessary to restore at least a semblance of election integrity and voter confidence."
We are grateful for legislators like Representative Brandtjen who advocate for and stand up for the desires and rights of the people.
Read more HERE.
---
WEEKLY RADIO COMMENTARY. "WISCONSIN FAMILY CONNECTION" – Airing this week on over 20 stations statewide. Click HERE to listen to this week's Wisconsin Family Connection, "Lifesaving or Life-taking: Worldview Matters". Read the transcript of this week's commentary HERE. Subscribe to our podcasts HERE! 
ARCHIVED:
Week of August 2, 2021 – Marriage and Parenting Tips: It's Not About Your Happiness
Week of July 26, 2021 – The Case to Overturn Roe?


"WISCONSIN FAMILY MINUTE"
A daily program for Christian radio stations! Click HERE for our daily program; listen or download! Click HERE to subscribe to your Wisconsin Family Minute podcasts! Find your local station HERE. If the Christian radio station you listen to isn't carrying "Wisconsin Family Minute," please encourage them to do so. Contact us at 866-849-2536 or info@wifamilycouncil.org. 
HOME FRONT – VCY AMERICA
WFC President Julaine Appling hosts VCY America's "Home Front" program every Wednesday afternoon (Sept.-May) at 3:15 p.m. CLICK HERE to listen to the archived episodes. Home Front will resume after Labor Day.
Click HERE to subscribe to future Home Front podcasts!  
VCY AMERICA TV30 "InFocus"
Julaine Appling, WFC president, is a regular guest (one Monday per month) on VCY America's TV 30 "InFocus" live, call-in program with Jim Schneider which airs on Monday evenings from 7:00-8:00 p.m. (Sept. through May). Click HERE to watch archived episodes. Livestream "InFocus" HERE.  Julaine's appearances will resume in September when "InFocus" begins a new season.
STAND UP FOR THE TRUTH – Q90FM
Julaine Appling is a occasional guest on Q90's "Stand Up for the Truth" program hosted by David Fiorazo (9-10 a.m., M-F). Julaine most recently joined David on Thursday, June 17, 2021. CLICK HERE to listen! 
–WFA's president Julaine Appling is available to speak to your group, church, school, civic organization, and other events. Call 866-849-2536 to schedule.
–Dave Lingle, Wisconsin Family Council's Director of Church Relations, is available to speak in churches. Call 920-342-1928 for more information.