MARK YOUR CALENDARS
Call our office at 866-849-2536 to schedule a speaker from WFA or WFC for your next event! 
EVENTS 

_____
TONIGHT!
RHINELANDER, WI
Crescent Lake Bible Camp
Thursday, April 22, 2021
6-8pm
♦
CLICK HERE for more information and to
register for these events.
---
MOTHER'S DAY
Sunday, May 9, 2021


MEMORIAL DAY
Monday, May 31, 2021

---
LEAD WISCONSIN
Not Your Average Summer Camp!
REGISTRATION NOW OPEN!


When: August 1-6, 2021
Where: Campus of Maranatha Baptist University in Watertown, WI
Who: Teens, ages 13-19
Registration Fee: $400 ($450 after April 30, 2021)
Financial assistance available.
CLICK HERE for more information
A ministry/program of
Wisconsin Family Council
---
NEW! 2020-2021 Legislative Directory
HOT OFF THE PRESS!


CLICK HERE to download
your FREE copy today!
---
Responding to the Transgender Issue:
Parent Resource Guide


Are you struggling to find the right words to help your child navigate transgender issues?
If so, "The Parent Resource Guide" was written with you in mind!
It is a carefully researched resource providing parents with practical ways to address the transgender issue with their children.
Grab your free copy HERE.
Call our WFC office at 888-378-7395 to obtain a print copy for a suggested donation of $5.
_____________
PARTNER WITH US!
It is the mission of Wisconsin Family Action to advance Judeo-Christian principles and values in Wisconsin by strengthening, preserving, and
promoting marriage, family, life and religious freedom. Our vision is a Wisconsin where God is honored, families thrive, human life is cherished
and religious freedom flourishes.


CLICK here to invest in your family, faith, freedom and future!
_____________
LEAVING A LEGACY
Because of our desire to serve and help families, our ministry is making resources available that can be useful in creating a wise giving plan.
Click HERE for more information on how you can significantly impact the Kingdom while strengthening and building families.
---
---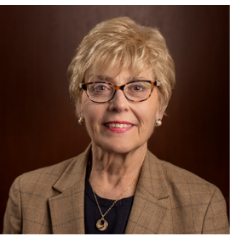 Earlier this week the WFA/WFC Board of Directors sent out an email requesting prayer for WFA/WFC president Julaine Appling as she went to Mayo to get a second opinion on a cancer diagnosis in her left shoulder. Julaine's appointments were this past Monday and Tuesday at Mayo, and late Tuesday she sent this update to the Board: "Praise the Lord! A very good visit! Mayo doctors say the situation in my left shoulder is conclusively invasive basal cell carcinoma, not any other kind of more aggressive cancer. It is quite treatable and very slow-growing. My CT scan that would have shown any metastasis was completely clear!
The Mayo specialists want me back Monday, May 3 through Wednesday, May 5, to meet with 2 other specialists to figure out the best plan of attack to get rid of this cancer with the least amount of damage to range of motion and mobility of my left arm/shoulder and the least side-effects. I'll continue consulting with my functional medicine physician to make the final decision. But this news is truly encouraging and is absolutely the blessing of the Lord and the result of God's people praying for me.  Thank you for your encouragement and prayers all along the way. Still a number of decisions to make, and I need to make sure Samaritan Ministries is good with all this; but there is now a clear diagnosis, and we are moving on!"
On behalf of Julaine, the Board of Directors thanks everyone who has prayed for her and for all the encouraging emails sent to us over the last couple of days. We have made sure Julaine has seen them. May God continue to work in this situation for His glory.
We also note that many of you shared personal stories of your own cancer journeys and those of loved ones. Be assured of our prayers for you as you deal with this disease. Thanks for sharing those stories with us.
Last week the Food and Drug Administration (FDA) announced that the first chemical abortion pill can be prescribed via telehealth. This means that a pregnant woman can access an abortion-inducing drug without seeing a medical professional in-person and undergo this dangerous, life-taking procedure without a physician present.
In many states, including Wisconsin, chemical abortions must take place with a physician present because of the severe risk it presents to the mother. Thankfully, the FDA's announcement does not override Wisconsin's requirement for an in-person prescription and professional oversight of chemical abortions.
Abortion is wrong under any circumstance, but this policy significantly decreases the value of unborn life and the life of the mother by making a potent abortion-inducing medication so easy to attain. As believers, we should make it a point to intentionally celebrate life, encourage the next generation to consider children as a blessing from the Lord and delight in God's ordination of the family unit.
---
"[Porn] is a subject we wished we didn't have to discuss," said Julaine Appling, earlier this week, "but with the internet and its always-available porn, we need to revisit it from time to time. Our hope is parents will pay special attention and will talk to their kids about porn and its harms and will also use the strongest filter they can find for every digital device, while also building in family accountability."
Fight the New Drug created a valued-filled resource on their blog listing 10 ways to talk about the harmful effects of porn. They also remind readers to talk to kids about porn explaining that, "[t]he average age of first exposure to porn is between 8 and 11 years old. Kids everywhere are encountering content that can have an immense impact on their brains' development while lacking the understanding and maturity to defend against it."
For more information and recommended ways to talk about the harmful effects of porn click HERE!
Last month several state republican legislators introduced Assembly Bill 196, which would prohibit biological males from competing in girls' sports in Wisconsin's K-12 public schools and private schools participating in the parental choice program. The bill is very similar to what other states have already passed or are considering. Earlier this week, Assembly Speaker Republican Robin Vos said in a media interview that the Assembly will move this bill forward, indicating the proposal has broad public support.
Julaine Appling commented on the bill and this message from the Assembly leader: "This bill is about fairness. Girls and women should have the right to compete in athletics on a level playing field. Biological males competing on girls' and women's athletic teams tilts the field, so to speak. I hope the Senate will also commit to moving this bill so that Governor Evers will eventually get the opportunity to do the right thing by signing it into law."
At Wisconsin Family Action, we're on a mission to defend God's plan for marriage, family, life and religious freedom in the state of Wisconsin by providing you with resources and relevant information. To financially invest in and further this work click HERE. Your support is vital to our ministry and success.
---
WEEKLY RADIO COMMENTARY. "WISCONSIN FAMILY CONNECTION" –  Airing this week on over 20 stations statewide. Click HERE to listen to this week's Wisconsin Family Connection, "Organized, Motivated, Mobilized." Read the transcript of this week's commentary HERE. Subscribe to our podcasts HERE! 
ARCHIVED:
Week of April 12, 2021 – A Tale of Three Governors
Week of April 5, 2021 – Church Makes a Difference
"WISCONSIN FAMILY MINUTE"
A daily program for Christian radio stations! Click HERE for our daily program; listen or download! Click HERE to subscribe to your Wisconsin Family Minute podcasts! Find your local station HERE. If the Christian radio station you listen to isn't carrying "Wisconsin Family Minute," please encourage them to do so. Contact us at 866-849-2536 or info@wifamilycouncil.org. 
HOME FRONT – VCY AMERICA
WFC President Julaine Appling hosts VCY America's "Home Front" program every Wednesday afternoon (Sept.-May) at 3:15 p.m. CLICK HERE to listen to this week's episode. On this week's program, Julaine Appling and Micah Pearce highlight some bills in the state legislature and discuss some important national historical events that took place in the month of April.
Click HERE to subscribe to future Home Front podcasts!  
VCY AMERICA TV30 "InFocus"
Julaine Appling, WFC president, is a regular guest (one Monday per month) on VCY America's TV 30 "InFocus" live, call-in program with Jim Schneider which airs on Monday evenings from 7:00-8:00 p.m. (Sept. through May). Click HERE to watch archived episodes. Julaine was a guest on Monday, April 5, 2021. Click HERE to watch this most recent episode. Livestream "InFocus" HERE. Julaine will next be on "InFocus" on Monday, May 10, 2021.
STAND UP FOR THE TRUTH – Q90FM
Julaine Appling is a regular guest on Q90's "Stand Up for the Truth" program hosted by David Fiorazo (9-10 a.m., M-F). Julaine will join David tomorrow morning, Friday, April 23, 2021. CLICK HERE to listen LIVE!
–WFA's president Julaine Appling is available to speak to your group, church, school, civic organization, and other events. Call 866-849-2536 to schedule.
–Dave Lingle, Wisconsin Family Council's Director of Church Relations, is available to speak in churches. Call 920-342-1928 for more information.